FRANK-RATCHYE PROJECT SPACE - JOYCE NOJIMA
Exhibition Dates: November 4 - December 2
, 2017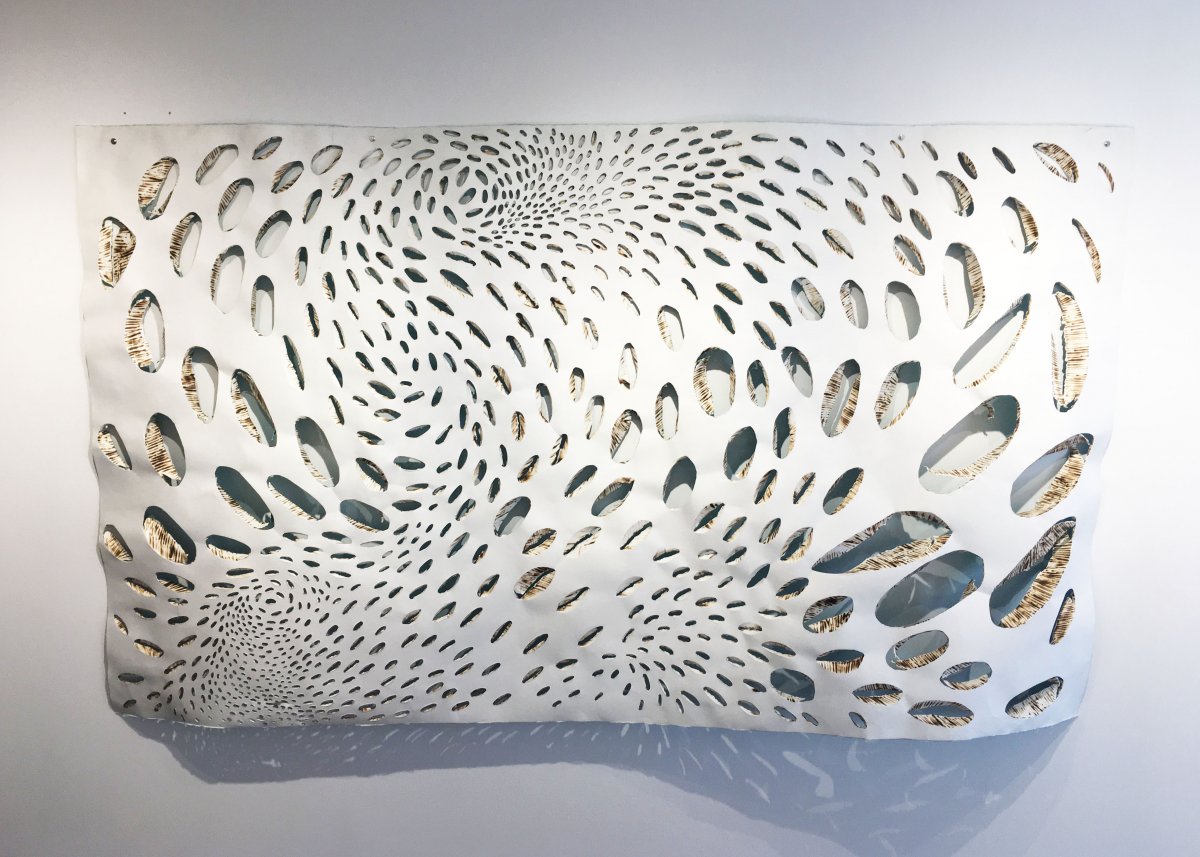 Image: Space-TIme, sketch for installation in Frank-Ratchye Project Space, 2017

Joyce Nojima's work exemplifies the contradictory capacity for paper to be both durable and vulnerable. Using a heated iron rod, Nojima carefully manipulates, burns, and marks her chosen medium to create new, emerging forms. Her process of controlled mark making produces a captivating constellation of imperfect pattern that calls for deeper meditation in finding beauty through destruction.
For her installation in the Frank-Ratchye Project Space, Nojima has introduced bright, vibrant color into this large-scale work. In Rumination, a teal glow heightens the contrast between the whiteness of the paper and the remaining burn marks. Nojima is interested in understanding the complexity and inherent duality of the self - the one that is portrayed outward and the one that remains facing inward. Her subtractive process ultimately parallels this concept as new internal forms conceived through varying depths are revealed for viewers to uncover.
About the Artist:
Joyce Nojima is a second-generation Japanese American. She received her BA in Art Practice from University of California, Berkeley and her MFA at University of California, Davis. Recently, she was a Graduate Fellow and then Affiliate Artist at the Headlands Center for the Arts. Nojima approaches her materials actively by puncturing, disfiguring, welding and drawing with a heated iron rod. Mark-making is at the center of her practice. By continually manipulated various medium, Nojima is in constant search for beauty amidst destruction. Nojima is a current studio artist at Root Division and teaches as a Youth and Adult Instructor through Root Division's Art Education program.
The Frank-Ratchye Studio Artist Project Space provides a gallery for Root Division artists to connect and engage in dialogue around the work being made on site, and to exhibit their art to the public. The Project Space is located on our rear mezzanine, and is free and open to the public during gallery hours in conjunction with the current exhibition. This space is made possible with the generous support of Ed Frank and Sarah Ratchye.
Learn More About Joyce: